Introduction:
This is an un-official web pages for the Peach State Feis 2010 to provide more information for participants. For official information, please visit Peach State Feis' website.
Time:
May 14th – 15th, 2010 from 8:00 AM
Venue:
Address: Westin Atlanta Perimeter North, 7 Concourse Parkway Northeast, Atlanta, GA
You can find it on Google Map below and get your directions to the site:
Parking: According to a parent, there are plenty of free parking around the hotel.
Over Night Stay: You can book a room in the Westin hotel by clicking here. The price was $79/night at time of checking. There are a lot of hotels in the surrounding area.
Competition Order
As a first time parent, I did not know when my child should get ready for the competition. I was grateful that Mr. Drake organized a school exhibition. I assumed Feis competition order would be similar. When you get to the Feis, you should pick up the competition program and your participation number. The competition program listed competition order, such as exhibition program shown below (double click to enlarge). It showed Reels went first, then Light Jig then Slip Jig… Within each dance, there were multiple competition numbers. The competition numbers were the group numbers used to get dancers ready.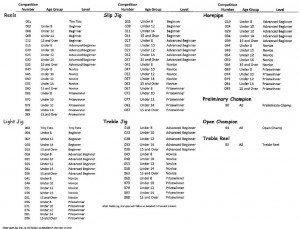 The participation number should be visible during the competition as shown in the picture below.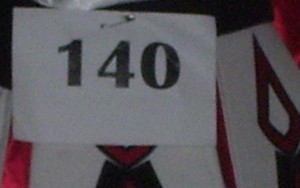 On the back of the competition number, there was a list of the event you would take part in.

There was a sign around the stage with the stage number and current competition group number (NOW080) and next competition group number (NEXT 002). If the number on the back of your competition number matched the next group number, you should prepare to get on stage.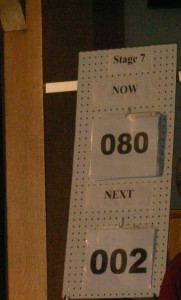 Good Luck with your competition.