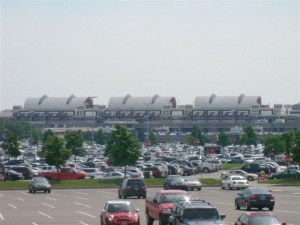 Pittsburgh International Airport locates at west side of Pittsburgh. It connects to Pittsburgh through highway 60 then I316.
There are four terminals in the airport, A, B, C and D. All four terminals arranges as four corners of a square. There is food court with McDonald and other shops in the center of the square (Airmall), which is after the security check point.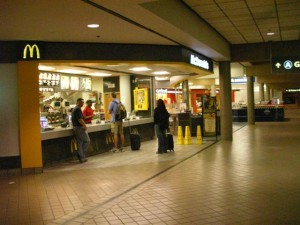 You have to take the People Mover (Tram) from the terminal building to the Check In/Bagguage Claim building – no walk way.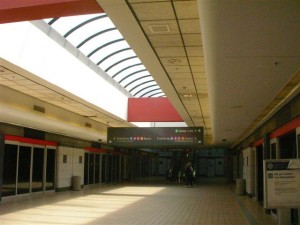 There are three public floors in the check in the terminal building. The ground floor is bagguage claim with all major car rental companis' counters. Second floor is the arrival/departure area with security check point. The third level is for check in and ticketing. The sign wasn't very clear. It took me a little while to find my check in counter on third floor.
The rental car garage is just outside of the terminal building. Rental car pickup and return were quick and easy. The airport did have clear instructions on how to exit the airport.
Excellent Features
There is a Sunoco Gas station right at the airport parking, midway at the airport exit. It is very convience for rental car refueling – just drive the rental car pass the rental car return sign to airport exit and you should see the refuel sign. After refuel, you can circule back to return your rental car.
Pittsburgh International Airport also offers free WIFI access. You need to connect to WIFI point FlyPittsburgh to use it. It was fast.
Reference