Description
Allen-Bradley PanelView Plus is a good machine operator interface. But if you do not set it up correctly, it does not run application automatically at start up. It either shows not finding the application file or not application loaded, as shown in pictures below.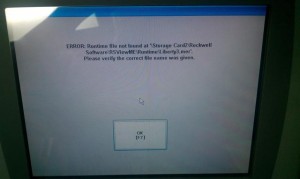 Solution
Actually, this was caused by an application setting in panelview plus under start up option. You can set it to load application automatically as shown in steps below:
Click on OK buttons all the way to main screen. Reboot the panelview plus, it should run the loaded application at start up.