Problem
Occasional RSLogix 500 users want to use "Go Online" to get online with Allen-Bradley programmable logic controller (PLC) instead of using the more complex "Comm"  menu to select the controller.
Solution
Anyone who saves the RSLogix 500 application can instruct RSLogix 500 program to save the project communication path with the application file (as shown in figure 1). As long as the computer has same RSLinx communication node, user can use "Go Online" (as shown in figure 3) to go online.
You can verify project communication path in comm path under Controller property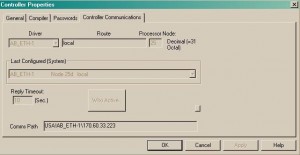 Use "Go Online " to go online with controller.