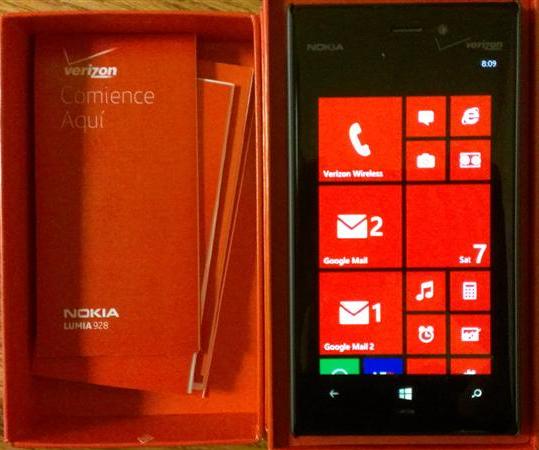 Background
My house has an iPhone 5, a HTC One Android phone and a HTC Aspire Android phone. It was time to renew cell phone contract, I decided to give Nokia Lumia a try. I wanted the latest Nokia Lumia  1020. Unfortunately, Verizon did not carry it. I got Verizon's Lumia 928. Its specification  was impressive, 17 hours talk time, 513 hours standby time and 63 hours music time. I used  an old Nokia feature (solid bar) phone years ago. It was well built and survived a ten feet drop to concrete floor. Verizon's sales people told me that Nokia knew how to build a phone with sensitive antenna hence Lumia had better signal reception than other phone .
First Impression
The Lumia 928 came in a red box. The body of the phone had a solid feel. It was heavier than its predecessor, which was built with plastic. The phone started up with Windows 8 tiles interface. It worked fine. The cell signal was strong. T-Mobile's HTC had half a bar while Verizon has four bars. But this could be that Verizon has better coverage. WIFI and mobile data worked well. First impression was fine, not impressive. The phone could be thinner and lighter so one can handle it comfortably with one hand, like the HTC one. The weight of the phone kept reminding me that it was in the pant pocket, unlike the HTC One, which it just disappeared in the pocket.
Update after two weeks of Usage
After two weeks of usage, the novelty of the phone wore off. I found some good and bad things about Windows 8 phone in general and Lumia 928 in specific.
The phone did have a sensitive antenna. I haven't been in any area that had less than two bars of cell signal. However, I mainly stayed in city area in these two weeks.
The phone had built in GPS and map data. This only applies to Nokia, which owns Navteq, a map data provider. US map is loaded onto the phone. Phone owner can download world wide map data to the phone. The GPS works without any phone signal or data connection. However, the GPS application, My Drive, had with no voice navigation at initial start up! If one hasn't done the research, one would switch to Verizon's turn by turn navigation program. User can download voice file from Nokia and enable the voice navigation. Nokia just did not make its device end user friendly. Maybe Nokia tried to keep its cell phone service providers happy.
The camera was good. It is better than cameras in other cell phones I owned, especially under low light condition. However, the photo quality is not drastic better than pictures taken by other cell phones.
There are enough applications for Windows 8, like the offline dictionary, flash lights, music and other. However, I could not find some of my favorite applications for free, such as Google Voice's Internet calling and Google Book. There is a free Kindle application for Windows 8. However, Amazon's  Windows 8 phone website did not support book purchase up to the time this article was written. To be fair, Windows 8 phone did offer Skype, which was free between Skype users. However, it was not free to make Skype call to regular phone. Google Voice offered free call to regular phones.
The biggest disappointment was battery life. If WIFI and GPS were turned on, battery ran out in one and half a day. However, if WIFI and GPS were off, the phone did last for a long time.
Update after three months
Lumia 928 did not have a notification center. It did not show any missing calls or missing emails until you turn on the lock screen. The lock screen showed these information. The old Windows Phone used to blink the LED light when there was missing calls. This is a feature I really want Microsoft to restore.
 Lumia 928 could not sync with off-line Outlook – at least I have not find out how at this time. That's a downer and a surprise as well. Lumia synchronizes with contacts in hotmail, gmail and other online accounts, but not Windows Outlook on the computer! I have to move contacts online now!?
The live tiles are useful with information constantly updated, such as Facebook, Weather…
The volume control was not locked when the screen was locked. I missed phone call several times due to no ring volume – the phone volume was turned down to zero when my key pushed the volume button in the pocket.
Adding new contacts are painfully slow, you had to save name, then add a phone number and save it, then add an email and save it, then add an address then save it …. A lot of extra add and save. Why doesn't Microsoft make the interface the same as Outlook is beyond my understanding.
Verdicts
Windows 8 phone is catching up with iPhone and Android. However, there is still some distance to go. At this time, if you want a solid phone with all basic functionality, Lumia is not a bad choice. However, if you want more features and applications, other two options are better.