Description
Trane XR80 furnace did not produce heat. LED indicator inside its access panel blinked 4 times. Trane's manual indicated "Open High Limit Device".
Solution
The high limit device is the furnace temperature limit. It shuts down the furnace when its burner reaches high limit. Under normal temperature, it should be close to allow power pass through it. The high limit device is in the furnace section above the control section as shown in the picture below.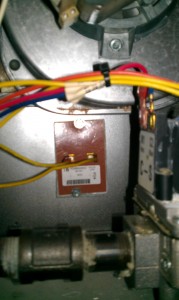 The component can be removed by loosing two bolts. You can check it with a multimeter. The two wire connectors should show less than 10 Omega under room temperature. If it measures open circuit at room temperature, you should replace it. You can purchase it from a reputable vendor. My vendor told me this component fails frequently.