Problem
After upgraded CompactLogix processor's firmware from version 15 to version 18 with compact flash card with firmware, RSLink did not recognize devicenet scanner (1769-SDN or 1756-SDN).

Solution
Devicenet scanner had firmware as well. Scanner's firmware is only compatible with certain versions of controller firmware. If controller's firmware did not agree with scanner's firmware, controller had communication issue, such as did not recognize IO cards or not passing information through scanner card to DeviceNet network.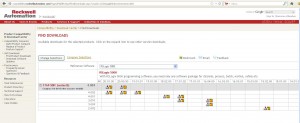 The solution was putting scanner's firmware on the compact flash card as well or upgraded the controller firmware with ControlFlash (downloadable from Allen-Bradley).