Background
ComCast Xfinity is one of major broadband service providers in Atlanta area. Attracted by their advertised broadband speed of up to 25 mbit/s and low price of $49.99/month in the Internet/Voice deal, and the thirty days money-back customer guarantee, I decided to switch from U-Verse to Xfinity. I could keep my U-Verse account for half a month as a backup. If I ran into problems with Xfinity, I could cancel it within thirty days and stay with U-Verse. I knew about the 300 GB per month data cap. I reasoned that 300 GB equalled to 300 HD movies, which should be enough for my family every month.
Installation
Instead of renting a cable modem from Xfinity for $10/month, I searched Xfinity's website and found the Xfinity compatible modem list. Some of the modems were around $60-$80 at Bestbuy or Amazon, which was better to buy than rent. Unfortunately, for Internet and Voice combination, only XFINITY – ARRIS Touchstone DOCSIS 3.0 Cable Modem and Wireless Router can handle this combination, which costed $199 on Bestbuy – I could not use lower cost modem due to Voice over IP requirement.
The Comcast technician was on time, courteous and knowledgeable. Yet it still took him more than three hours to install the system – apparently my existing underground cable was damaged and he had to re-routed the cable to my house. He also installed cable inside my house. Xfinity performed all these installation work for free, which was a good deal by itself.
When the modem was finally connected, he placed a call to Xfinity support center to register modem's serial number and MAC address on Xfinity system. Support center activated my cable modem. Technician disabled my existing home telephone wires from AT&T and connected a telephone cable from VOIP output port to my house telephone network. Every phone outlets in my house switched to Xfinity with my existing telephone number. Internet worked as well. The installation was long but smooth.
Speed Comparison between U-Verse and Xfinity
I ran speed comparison between U-Verse and Xfinity. At the time of Xfinity activation, U-Verse download speed was 6.39 Mpbs, upload speed was 1.79 Mpbs. Xfinity down load speed was 12.43 Mbps and upload speed was 5.70 Mbps. Xfinity down load speed was twice that of U-Verse and upload speed was more than three times over U-verse's. However, I noticed that Xfinity speed changed overtime. At night, Xfinity download speed dropped to 8.99 Mbps and upload speed dropped to 1.86 Mbps, while U-Verse speed did not change much. I suspected that the speed fluctuation was due to Xfinity's shared bandwidth design – users share bandwidth with all other users in surrounding area. However, Xfinity speed was still better than U-Verse in both tests.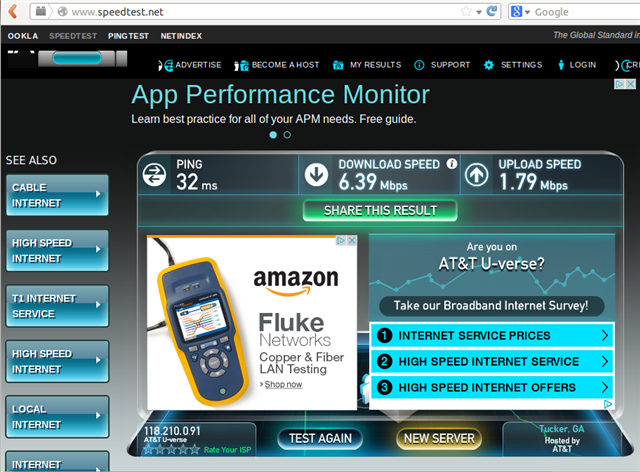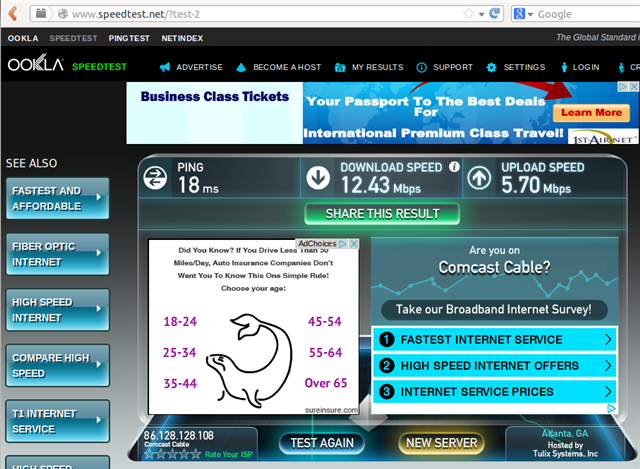 Image 3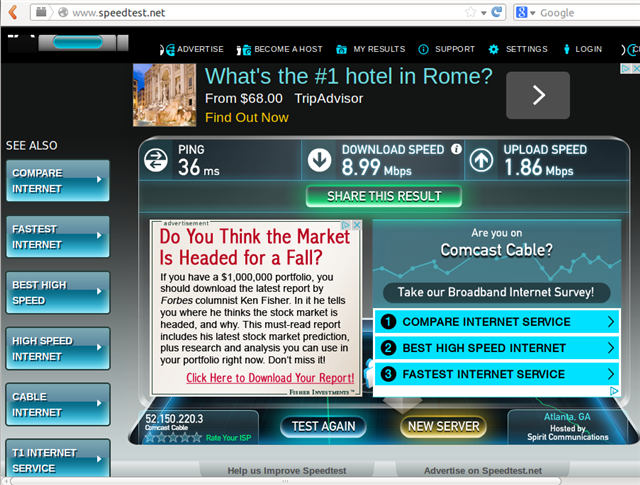 Xfinity Monthly Data Cap
I was surprised on how much data I used per month. I switched to Xfinity in middle of the month. Since I had both U-Verse and Xfinity during the switching month and I worked on setting up the new Xfinity network in the house, all family members used U-Verse. After two weeks of Xfinity usage, we felt that it was good and stable. I cancelled U-Verse at the end of the month.
I received a notification from Xfinity just ten days into the second month that I already reached 90% of my data cap. My family used more 290 GB of data within ten days! I was totally surprised. Comcast technical support could not  share hourly or daily data usage with customer. I was supposed to just accept Comcast's usage data. If I have hourly data usage, I should have a better idea on how to reduce data usage. That's a draw back from Xfinity.
I researched ways to reduce data usage. My biggest data hog was Netflix. I found way to reduce Netflix's data usage by 90% without sacrifice too much quality. I also instituted network usage rules – school work and work related activities were exempted from limit. Netflix, You-Tube and Internet TV viewing should be reduced to agree-upon limit. If a movie was not watched actively, paused it and exit Netflix. My kid complained that she wished I stayed with U-Verse, which did not have data cap so she could watch Netflix, Hulu or You-Tube whenever she wanted. It was interesting that Xfinity did not offer higher data cap package – I would like to purchase more data.
Even with new usage rules and new Netflix settings, the 300 GB data cap was reached within first fifteen days. We watched data closely for rest of the month. Luckily, Xfinity gave its users three overage months per year, which Xfinity did not charge overage fee. I used one of the data overage allotment on my first full month with Xfinity. My family used around 325 GB. Without the data usage rules and new Netflix settings, we would have used up to 750 GB. That would cost us extra $90 ($10 for every 50 GB over 300 GB).
The data usage was reset at first day of the month. My family's data usage looked good so far with the imposed data usage rules and configuration changes. I suspect that I may use rest of the data overage allotments during summer months which kid watches a lot of movies during summer holiday.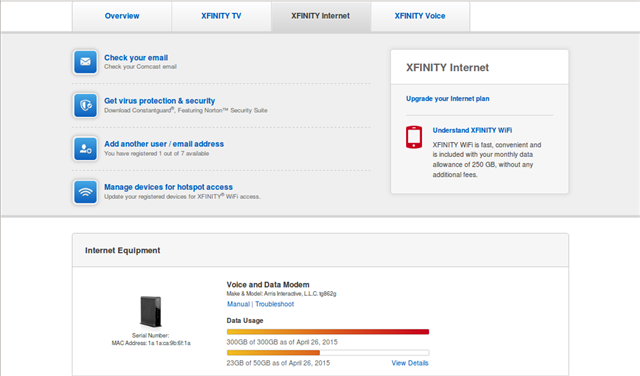 Image 5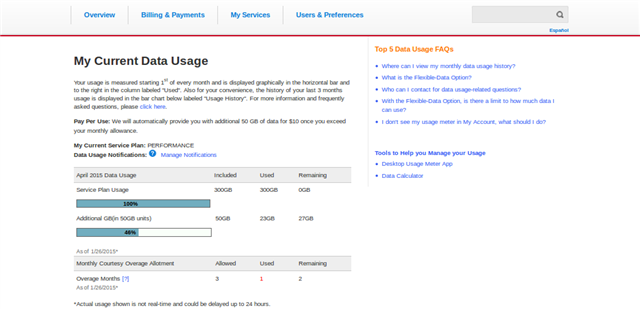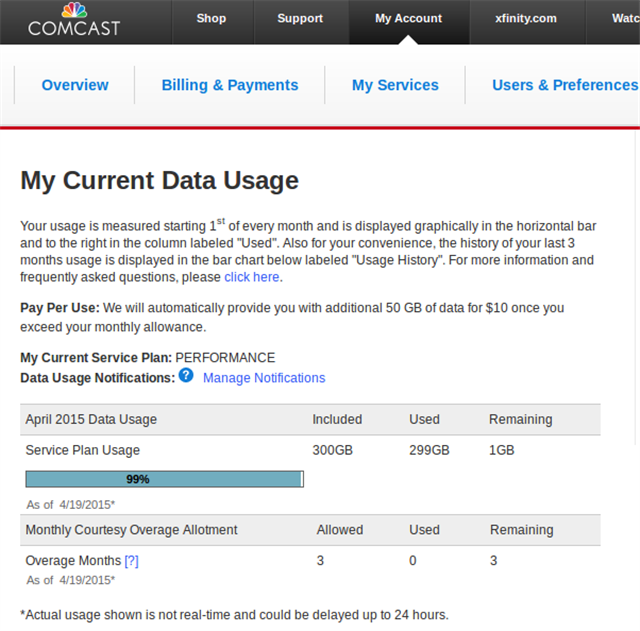 Data cap was very annoying. If I knew that we used so much data in a month, I would have kept my U-Verse and cancelled Xfinity. But I discovered this problem too late and my thirty day money back period was gone. I have to stay with Xfinity until my contract ends.
Other Considerations
Xfinity WIFI
After I switched to Xfinity, I noticed that a Xfinity WIFI hot spot showed up on my available wifi list. A quick research showed that Xfinity installed Xfinity WIFI hot spot on its Xfinity routers so other Xfinity users could access Internet if they were within the hot spot range. Xfnity WIFI used different public IP address and different IP address range. According to Xfinity, it should be secure. However, a WIFI expert recommended to disable the Xfinity Wifi for security reason.
Xfinity VOIP Modem may not support loop back service
The Xfinity VOIP modem Arris Interactive TG862G does not support loop back service. If you host a company website on your public IP address, any employee inside the company can not access the website. However, any people external to the router can access the website without problem.
Arris Interactive TG862G Wifi is not very strong
This wireless router was not as powerful as U-Verse's 2-Wire 3800HGV wireless router, even this router was two or more years newer. I added one additional wireless access point to cover the same area.
Summary
If you know the limitations of the Xfinity VOIP, you can make your informed decision. Overall speaking, I was OK with my decision.