Why Temu.com Interested me?
Temu.com invaded YouTube lately. Its advertisement showed up constantly when I viewed YouTube videos. It advertised items with outrageous price. The item caught my eyes was a rechargeable flash LED light. Priced at $1.84 with free shipping. Is this low price too good to be true? Maybe the website is a scam.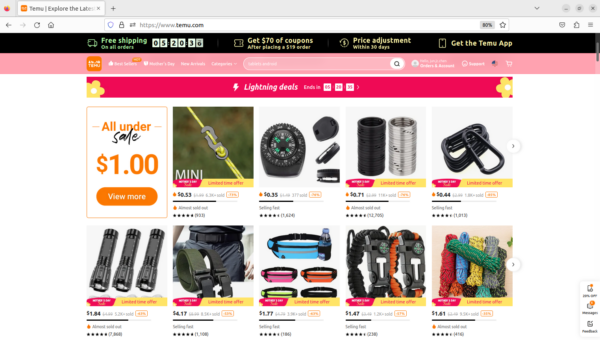 Temu.com is legitimate
I did some research on the web. To my great surprise, Temu.com is owned by PinDuoDuo, an Internet giant in mainland China. It also listed its stock on NASDAQ market under ticker symbol PDD. According to Yahoo finance, the company incorporated in Dublin, Ireland. PDD group made $130 billion revenue in 2022.
After I figured out Temu.com is owned by PinDuoDuo, I had more confidence on the platform. I encountered PinDuoDuo once when I traveled to China years ago. A lady told me that she ordered LED lights from PinDuoDuo's site with 50% lower price than retail price. At that time, PinDuoDuo was small, the lady had to wait for other people to place order for the same LED lights. There was a minimum aggregated order amount before PinDuoDuo could place the order with the wholesaler or manufacturer. The lady told me that some of her previous orders were not filled because the aggregated order amount did not meet the minimum order quantity. The business model made sense to me. It was like Groupon in the United States. But Groupon did not fly high for long. I kind of expected PinDuoDuo followed the same glide path.
With Temu.com owned by PinDuoDuo, I understood that its low price is legitimate. PinDuoDuo has two advantages over its competitors. First, it sources its product from China, a traditional low cost producer. Secondly, PinDuoDuo can get a lower cost either from Chinese wholesalers or even the manufacturers. With its direct to consumers' platform, only companies with deep pocket can compete with Temu.com on price. The two disadvantages of Temu.com are shipping from China, which may take a long time and shipping cost, which may eat into its profit.
Order Experience with Temu.com
Temu.com offers free guarantee shipping at this time. This eliminates US customers' main concerns. On its website Temu.com promises that if the shipping is more than forty eight hours later than the promised date, Temu would give the customer $5.
With this understanding, I ordered six none critical items from Temu on 21 April, 2023, including a $4.38 led flash light (with rechargeable battery). All of them were less than $5. Temu estimated the order delivery time would be between May 1 and May 5. I would get $5 credit within 48 hours if order was delivered after May 5. The package showed up in my front door on April 30, just nine days after I placed the order.
Review of the order:
The overall package was flimsy with no padding. It relied on individual item's package. All items I purchased only had either a plastic bag or a card board box, with one plastic item in a single sheet corrugated box. All the boxes were crashed. But none of product was damaged. The product matched Temu's website. All items were in working order.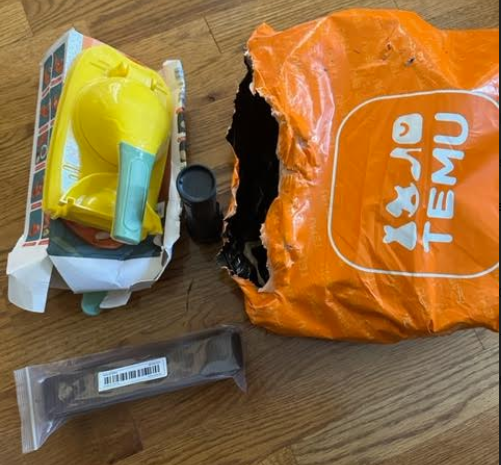 Conclusion
Temu.com is a legitimate shopping site. While it offers free shipping and guarantee delivery date, I am comfortable to order low cost, none essential items from it.