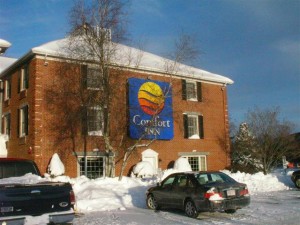 Description:
The Comfort Inn in Foxboro was one of the three chain hotels around Foxboro/Mansfield area (Holiday Inn, Court Yard Marriott). It was a colonial style building. The room was comfortable. Some rooms had microwave and refrigerator. However, you need to request a room with such equipment or you would get a room without them.
The Air Conditioner / Heater was still the old style knob with cool/hot settings. It was hard to set the correct temperature setting. It took more more three nights to find the correct settings. I woke up sweating for the first two nights.
The breakfast was weak – cereal, pan cake, muffin and orange were the choices. It was less than the normal breakfast in other Comfort Inn.
The wireless internet was weak at the far end of the building – it kept dropping my wireless connection. However, if the room at the middle of the building, around x40 range, then the connection was much better.
Any way, it was a good hotel for a quick stop.
Contact info:
Address: 4 Fisher Street , Foxboro, MA, US, 02035 (East of I95 exit 7A)
Phone: (508) 543-1000
Fax: (508) 543-2914
Website: http://www.comfortinn.com/hotel-foxboro-massachusetts-MA036