My 2002 Mitsubishi Galant's hot air worked fined until some snowy days last month. Since then, it only blowed cold air. It was terrible for winter. I decided to fix it. As my standard operating procedure, I Googled it to see how hard for me to fix the problem my self and some estimates of the cost of fixing it by dealer.
I was surprised to see that dealers charged between $300 to $1,000 to fix this problem. However, when I read steps of fixing the problem, I noticed that the hot air was generated by hot water from engine through the hot water core inside the dashboard. There was an electric solenoid valve to turn on and off the hot water. If the solenoid valve stops working and locks on the close position, you have to remove the dashboard to get to it. You can either replace the valve or force it to open position after you remove the electrical wires. With the valve in open position, you may use more energy to cool the air in summer. However, many models of car do just that.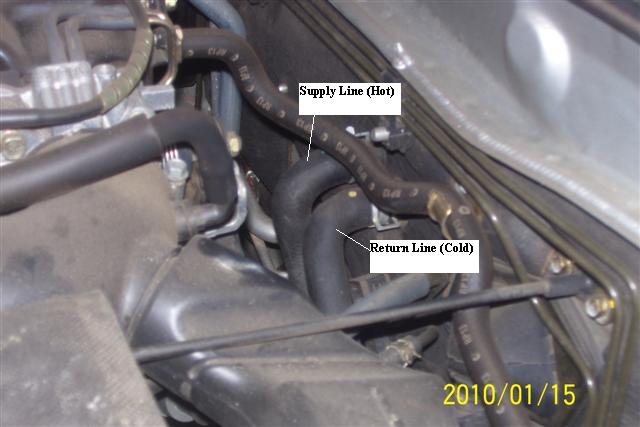 After reading the steps, I understood why dealers charge that much. And I did not want to spend 3+ hours to work on it. However, just to verify the theory, I check the supply hose and return hose while idling the car.  As shown in the picture below, the hose on the passenger side was hot while the hose on the driver side was cold. So the valve was close.  Suddenly, I thought I could force the valve to open by  squeezing the return side very hard. If the valve was a flapper valve or an ordinary pilot flow solenoid value, a back flow would open it up. I did not see any possibility that some hard squeezes would damage some components in the hot water circuit. So I squeezed the return line toward the valve very hard four times. Amazingly, I started to feel that the supply line became warm then hot. I sat inside the car and felt the hot air! It took me less than 5 minutes and cost nothing to fix this problem.
I would wait to summer to see what would happen to my air conditioner.
Reference: About Forum on How to Work on the Heater Core Valve
Follow up on 2010/1/30
Be sure to tape the selection switch on the dash board to hot. If someone switches it to cold, the valve would close again. Luckily for me, I repeated the procedure to get the valve open again.