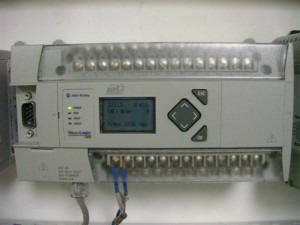 Introduction
Allen Bradley Micrologix 1400 (1766-L32BXBA, 1766-L32AWA…) controller is low cost and powerful for industrial control applications. In addition to traditional ways of setting static IP address via RSLogix500 Software or Bootp, you can also set it up via its local LED display.
Steps to Setup Static IP Address
Use Arrow Key to select "Advanced Set" in the LCD screen, then hit OK key
Select "ENET Cfg" and hit OK key. You can use any number as a password (1111 will do) if the controller is not password protected. However, if the controller keeps asking you for a correct password, then you have to call your programmer to get its master password.
Select "IP Adddress" and hit OK key to enter IP Address setup menu
Use Arrow key to setup IP address, subnet mask and gateway. Use left and right arrow key for navigation, use up and down arrow key for digit. Every push of up arrow key increase the digit the cursor is at by 1; a down arrow key reduce it by one. When you are done, hit the OK key to finish the entry.

Use Arrow keys to Enter IP Address

Use Arrow Keys to Enter Subnet Mask
Note:
You can enter a master password when you are online with the controller in Controller Properties -> Password tab. This prevents un-authorized user changing the IP address.