Problem:
FactoryTalk View Studio application manager could not restore apa application, complaining that "Unable to restore the application …."
Solution:
If you still have this message after you reboot your computer, then make sure the following services are started using control panel -> services:
RSLinx Enterprise
Rockwell Directory Server
Rockwell Application Services
FactoryTalk Diagnostics Local Reader
If all of them are started and you still have the above problem, the RSLink Enterprise on your computer maybe damaged. You need to remove your existing RSLink Enterprise and install it again from your installation disc as shown in the picture below: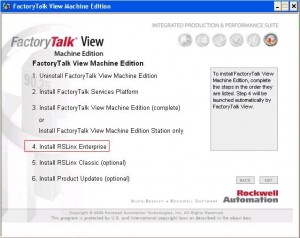 Next
You may have problem with your runtime security account when you restore your application. If you do, please follow this page to solve Damaged FactoryTalk Runtime security.