Problem
Rockwell FactoryTalk View Studio may crash the runtime security when FactoryTalk Studio's Application Manager restores an application from Archie file – .apa file. However, security account settings form 3.20 or earlier are fine.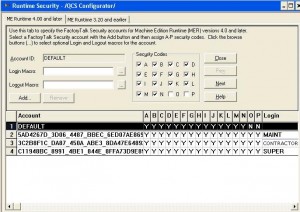 Solution
You can delete all the damaged security accounts by high-lining it and click on the Remove button. Do not delete the DEFAULT account.

Import Runtime Security account from 3.20 or earlier with "Migrate ME runtime 3.20 and earlier account" under Setup.