Descriptions
Beijing International Airport (PEK) is also called Beijing Capital International Airport in China. You can see (BCIA) logos around terminals. It is the main air portal to the capital of China. It locates at the north east of Beijing, about 20 miles away from the city. There are airport express train to connect the airport to Beijing's public transportation system. However, if you do have some big luggage, it is better to take a Taxi. I did not take the airport express train, it may be fine for passengers with luggage, however, Beijing's subway system is not suitable for travelers wiht heavy bags – no elevators nor escalators in most train stops. You have to hand carry your bags up and down steps. Some train stops' staircases are as many as 3 stories buildings.
Terminals and check in Areas
There are three terminals in the airport. Different airlines fly to different terminals. Terminals are separated by at least several miles. There are free airport shuttles to ferry passengers across terminals. However, it is always a good idea to check your terminal before your trip to save time and trouble.
Beijing airport is a world standard airport. There are flat screen information displays in the terminal building. Flight information are shown both in Chinese and English. Some airlines have several check in counters. Only designated counters can accept you check in.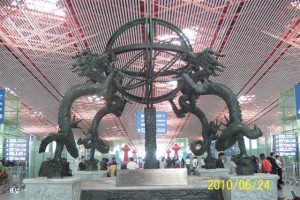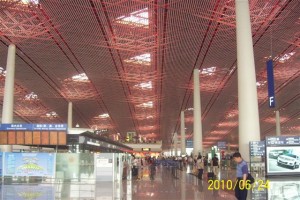 There are many identification check points and security check check points. Both check points have short queue. It took less than 10 minutes for me to go through both. You do not need to remove your shoes in Beijing International Airport's security check points. That was a little happy surprise to me. However, many passengers have to be wanded. Somehow the security gate beeped frequently.
There are many stores and a few snack bars after security check points. Product price is higher than outside – it could be doubled. It is better to purchase goods outside the security check point. There are some E-Zone which provides free Ethernet ports. They are always occupied. Only China Mobile provides WIFI access points in the terminal buildings. No other WIFI points available.
Smoking
There are a lot of smokers in China. You can see smokers as young as high school ages. They smoke in any places even in Heavenly Palace which is definitely no-smoking area. I am glad that the airport is an non-smoking area. To smooth the craving of smokers, there are designated smoking rooms scattered in the gate areas.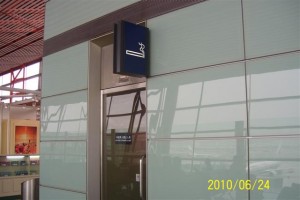 Gate Information Terminals
The flat screen at the gate is the main information place for your flight. There maybe no announcement for gate change or boarding. Passengers have to check the gate screen frequently. Each gate serves several flights at the same time. There are two levels of walk way in the gate bridge. Each level can sever up to 4 airplanes. The gate agent put a red velvet rope to block entrance to other airplane. However, always a good idea to check overhead display right before you step abroad the airplane to make sure you are on the right one.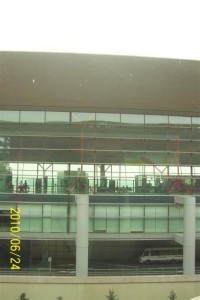 Overall
Overall speaking, Beijing Capital International Airport (BCIA, PEK) is well ran.