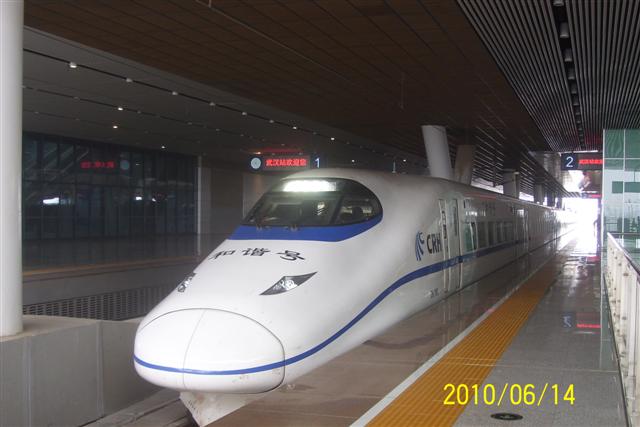 China built the current highest speed bullet train system in the world. The commercial trains run about half the speed of commercial airline. For curiosity's sake, I decided to try a 1,000 km leg from Wuhan to Guangzhou. The ticket price for the bullet train was about the same as the airline ticket.
The Wuhan train station was beautiful. It looked like several over-lapping waves from far away. The glass and steel structure soars into the haze sky. The waiting area looked like airport with a lot of plastic chairs for passengers. There were a lot of trains between Wuhan and Guangzhou –  90 minutes a pair at normal time, with 20 minutes a pair at peak traffic hours. With such frequency, the high speed bullet train ties Wuhan and Guangzhou together. It will speed up economic development around the route, which will be very beneficial for China and for the world.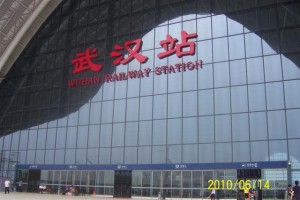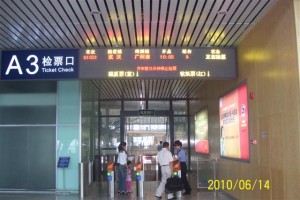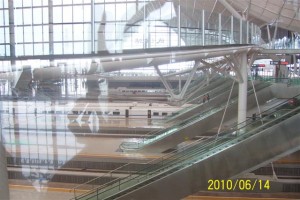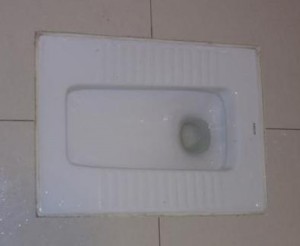 The boarding was on time. I took the escalator down to the train platform. I got the second class seat. The second class seats look like and feel like commuter airline seat, small seats which reclines. It was comfortable enough for me. The first class sections have bigger chairs. Instead of 5 seats per row (2+3), they only have 4 seats (2+2). There were also over head flat screen TV in the first class section. However, in my opinion, the extra features did not justify the extra price.
To my great surprise, my train was almost empty, about 10 persons in my section, which had 80 seats. The first class section's occupancy rate was even less. However, considering how many trains each day, it was not surprise that the train was not full.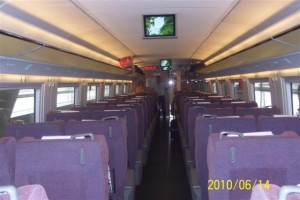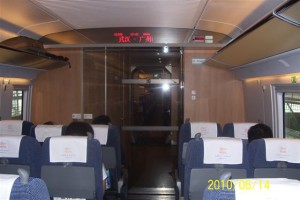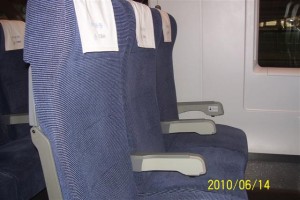 The train pulled out of the station on time. It was very kind of quiet and smooth. I could work on my laptop. The train was also smoke free. That was some accomplishment in China. It ran through the country side. It was very good for visitors to have a feel about China.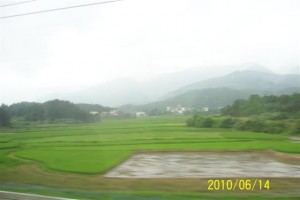 Even the train speed supposed to be high, however, I did not feel very fast on it. It felt just like on a normal train. The feeling was comparable with Pan Europe train. European travelers should feed right at home on the high speed bullet train. Cell phone works well on the bullet train except when the train going through tunnels. My destination was Guangzhou North, which was an older train station. There was not elevator nor escalator in the train station. I had to carry my 3 luggage bags down 30 more steps to tunnels below the tracks then carried them up the other side. I was lucky that I did not pack that much in my bags, but it was very hard to young children and senior persons, not to mention disabled persons. That's an area in great need to improve.
Since there were frequent bullet trains go between a city pairs, train tickets were good for whole day. You could get on other train. However, you have to find another seats if you were not on you designated train. You only need to check in 3 minutes before the train departure time to get on it. There were no check in bags – you can store your bags on the overhead rack. These two advantages would give airlines a run.
Overall speaking, I like the Chinese bullet train system. It provided a valid competition to airline, which should drive down traveling cost for all passengers.
Cost Y469/person. (Regular train ticket around Y150, which takes around 9 hours)
Time: 3.5 hours with 4 short stops in between with each stop around 10 minutes each. Average train speed 335 km/hr (208 mile/hr).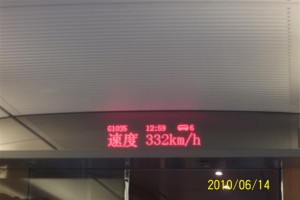 Recommendations:
Pack light for easy carrying up and down stairs – there may not be escalators nor elevator.
Train stations may be in developing area, check your arrival transportation ahead of time.
Do not need to purchase ticket ahead of time if you are getting from a major train station.