Problem
Some of clients still use Quickbooks 2006. To support them, I need to run QuickBooks 2006 on Windows 7 computer. However, Windows 7 Home Premium 64 complained about compatibility issue at installation. A quick check on the Internet did not show any ready solution.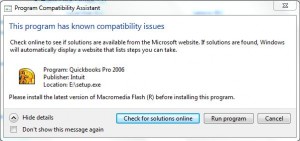 Solution
To solve this problem, I upgraded my Windows 7 Home Premium 64 to Windows 7 Professional. Then I installed Windows XP mode on the computer. Then I installed QuickBooks 2006 on the Windows XP mode. Below are the steps on installing QuickBooks 2006 on the XP mode.
Start up Windows XP mode from Windows 7 Start menu
Select the Setup.exe file on the QuickBooks 2006 CD from Windows Explorer in the Windows XP Virtual PC.
Complete the installation in Windows XP mode
Now you can run QuickBooks 2006 either in Windows XP mode windows or in Windows 7 Professional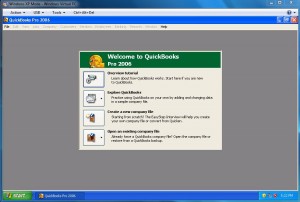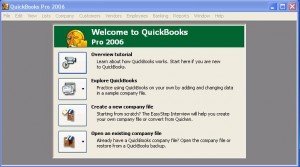 Summary
Windows 7 XP mode is a great program from Microsoft. It solves most of compatibility problems of upgrading Windows. Old programs still usable after the upgrade.