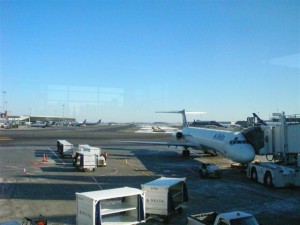 General
Boston General Edward Lawrence Logan International Airport (BOS), short name as Logan airport locates at the shouth east side of Boston down town. You can get to the airport right off Interstate I90. However, the traffice around the airport was always bad. You should plan at least 45 extra minutes for travel.
Car Rental
All the car rental companies were off site. You should wait for the shuttle right outside the baggage claim area. Be sure to bring enough warm cloth in winter. Boston was cold in winter time. You would feel the wind chill factor while waiting for your rental car shuttle outside. All the rental car companies were clustered around each other and the direction to them were clear.
Rental Car Fueling:
I could not find any gas station around the rental car return area. And Boston's streets were confusing. Be sure to gas up your car before you enter Boston down town. I normally fueled up my car at exit 5A on I93 north bound – just before entering Boston city limit.
TSA Security
There are multiple terminals in the Logan airport. Each terminal had its own TSA check poit. General speaking, the TSA line was short, even after the Christmas bombing accident, I passed the TSA check point within 20 minutes.
Airport Amenities
Restaurants: There were enough restaurants in the terminals. The food price was comparable to other airport.
WIFI: Boston Logan airport did not provide free WIFI. However, it did have all the paid wifi hot spots. While I was there, Google paid for all the WIFI connections. It was nice to be able to surf for free while waiting for my flight.
Power Connection: I was impressed to see that Logan airport provided several roll of chairs with power outlet, powered USB power ports under the chairs. So travelers who wanted to do some work while waiting for the flight did not need to hunt for power outlet. This was thoughtful and the first I saw in the US.